NEWS/EVENTS
---
BACK
Social fortune-telling service SOLARITA is released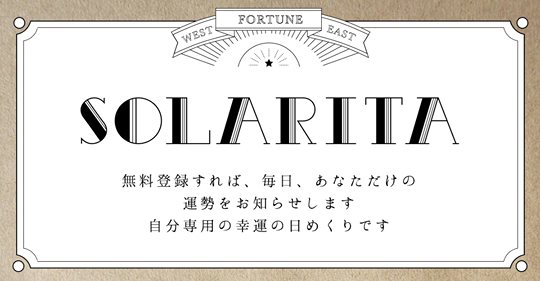 SOLARITA is a daily social fortune-telling service based on a mix of Western astrology and Oriental astrology such as the Four Pillars of Destiny. BASSDRUM participated as a member of the development and investment teams in the production of this service, which utilizes a unique autonomous fortune analysis network algorithm.
While developing the service, we were surprised to learn that as the algorithm became more accurate, it was able to tell us things like "How do you even know that?". The UX aim is to combine a question box service like Sarahah with fortune-telling, and the fortune-telling results can be shared as an image.
In today's world, even if you come up with a great idea, someone else might make it happen before you have a chance to realize it. We provide technical direction and development resources to those who think "this would be fun to do!". In return, we are paid a "promotion fee" at the time of fundraising and exit. This is the initiative of BASSDRUM's development investment.
ALL NEWS