NEWS/EVENTS
---
BACK
Is the idea feasible? Technical consultancy event "Feasibility #3" to be held on Sep 17th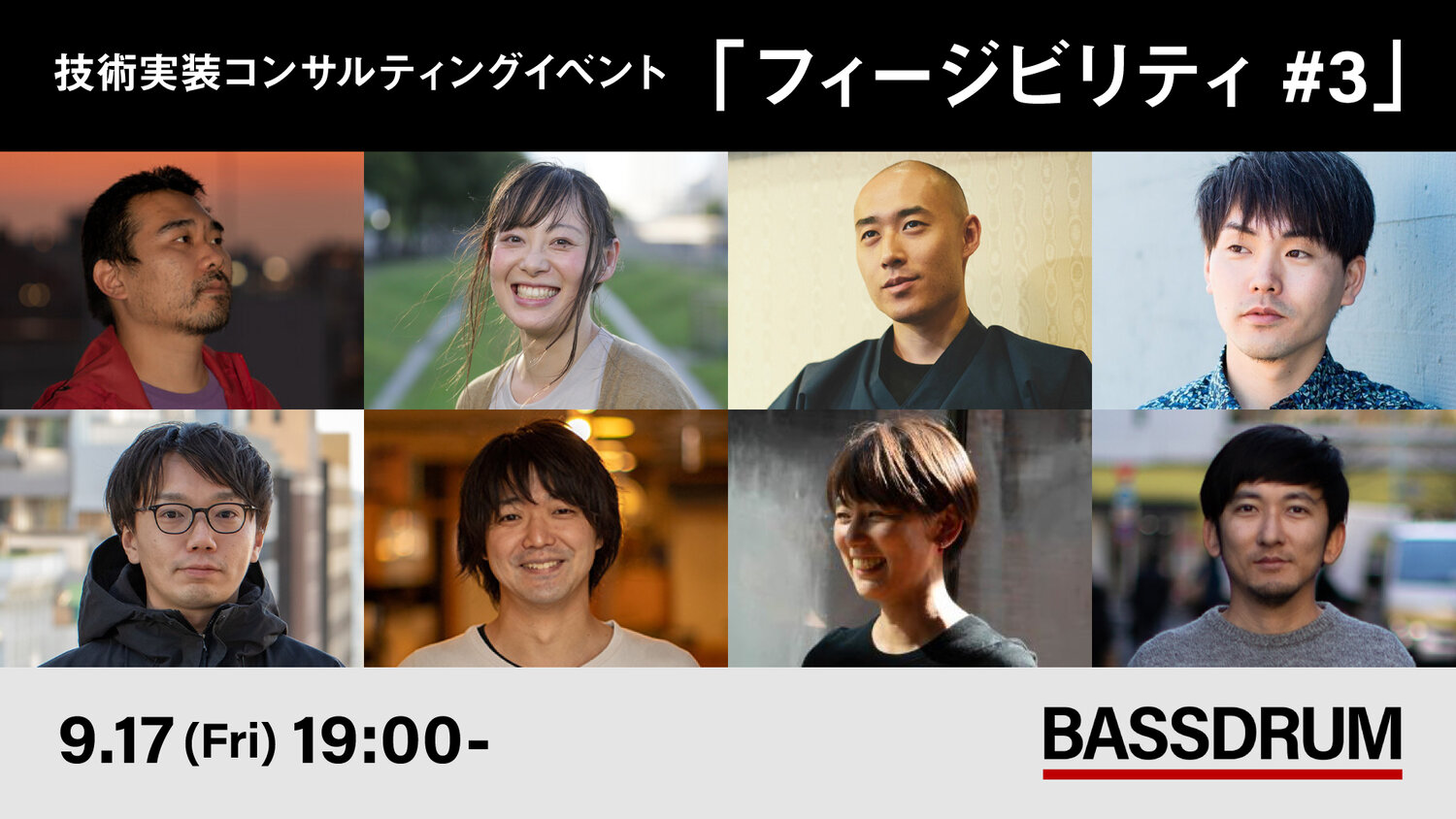 Have you ever wondered in your daily life, "Is this idea technically feasible?"
The technical consultancy event "Feasibility" is an entertaining tech show that welcomes guests from various fields with Japan's leading technical directors reading the concepts and aims of the guests' novel ideas and reckless plans and exploring their feasibility by providing advice and suggestions on technical aspects, costs, references and so on.
The very special guests for our third show are Hiroko Nakamura of fermata, a femtech company working to improve women's wellness, Shokei Matsumoto, a modern Buddhist monk who is bringing a breath of fresh air to the Buddhist world, and Yukako Makino, who has a hearing impairment and runs Defsapo, an organization that supports children with hearing impairments.
This event will be broadcast live and free of charge. Don't miss it!
■ BASSDRUM Technology Consulting Event "Feasibility #3"
Date and Time: Friday, September 17, 19:00-22:00
Streaming at: https://youtu.be/D3poMs1MNEE
Free to watch

Guests:
Hiroko Nakamura (fermata Co-founder/CCO) https://hellofermata.com/
Shokei Matsumoto (Modern Buddhist Monk) https://note.com/shoukei/
Yukako Makino (President, DeafSupport Inc.) https://nannchou.net/
Tech directors (BASSDRUM):
Takuma Nakata, Yuto Kumon, Taku Ichihara, Yoshiaki Kajiyashiki, Keita Kuroki
Moderators: Qanta Shimizu, Chiemi Isozaki

Official website:
https://public.bassdrum.org/feasibility3

ALL NEWS