WORK
---
BACK
XR SQUAD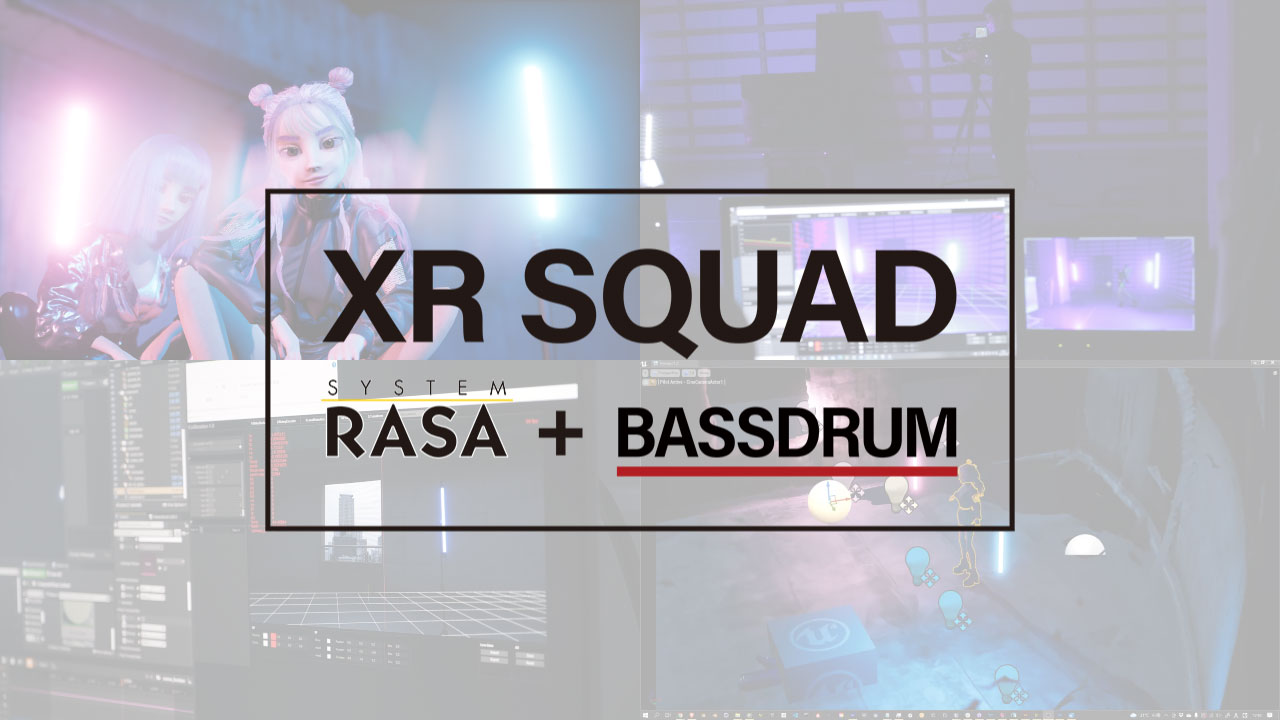 From the start to the end with XR
XR expression is in increasing demand in areas such as online events and video production.

BASSDRUM and SYSTEM RASA built XR SQUAD, a team of XR experts that can complete the whole processes of any XR project from planning, equipment design and development, to operations in one team.

"We have the equipment and systems, but we don't know what to do with the content." - XR SQUAD can solve your problem.
When you have managed to procure XR equipment, but you do not know how to use it, what kind of content it should be used for, or what kind of implementation and development is necessary, XR SQUAD can work as your partner who understands the equipment and systems and can direct the construction of content.
"We can create the content, but we don't know anything about the equipment and systems." - XR SQUAD can solve your problem.
You already have the CG team to collaborate with and can perform real-time rendering, but you do not know what kind of equipment and systems to use to build a low latency and high-quality XR system. In such cases, XR SQUAD can take charge of procurement of the most suitable equipment and systems for the expression you are aiming for.
For those who want to incorporate XR into live concerts, TV shows or online events
If you don't know much about the technical details, but you want to enrich the delivery and expression of your content, or if you are not sure who to consult to realize XR, our technical directors will define the requirements and work side-by-side with you as a development consultant to achieve your goals. Even if you want to try something but don't know where to start, please feel free to contact us.
TEAM
◼︎ System RASA
System RASA is active behind the scenes in a number of areas, including video and audio equipment rental, stage production progression, projection mapping implementation, and live broadcast distribution. They provide technical support tailored to the needs of diverse projects, from large-scale international events to audience-free delivery. They conduct spatial simulations in advance for each project, reflecting their accumulated knowledge and skills while contributing to the realization of new creative ideas.
◼︎ BASSDRUM
BASSDRUM is the world's first tech director collective who leads various projects such as web services, physical product development, and event planning from a technical perspective. With a cross-sectional understanding of creativity and technology, they mediate communication between the two, and maximize a team's ability to realize their potential using technology as a tool in all phases of the projects.
ALL WORKS